FFVIII INTERVIEW WITH HIRONOBU SAKAGUCHI
An interview with Hironobu Sakaguchi, executive producer of the Final Fantasy series. Here, he talks about how his games will be shaped in the future, his involvement with Final Fantasy VIII, and his influences from movies.
---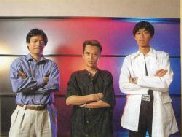 FFVIII INTERVIEW WITH KITASE, NOMURA, NAOI
An interview with Yoshinori Kitase, Tetsuya Nomura, and Yuusuke Naoi - the director, character designer, and art director respectively of Final Fantasy VIII. They discuss the upcoming Square masterpiece.